Carla Pestana
Carla Pestana is professor of history and the Joyce Appleby Endowed Chair of America and the World at UCLA. She was the 2015–16 Robert C. Ritchie Distinguished Fellow at The Huntington.
Publications
The English Atlantic in an Age of Revolution, 1640-1661
Between 1640 and 1660, England, Scotland, and Ireland faced civil war, invasion, religious radicalism, parliamentary rule, and the restoration of the monarchy. Carla Gardina Pestana offers a sweeping history that systematically connects these cataclysmic events and the development of the infant plantations from Newfoundland to Surinam.
Verso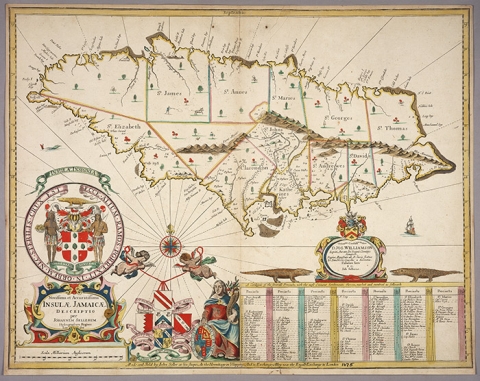 This beautiful color map of Jamaica dates from the early 1670s, after Jamaica had been divided into parishes. It was produced by John Seller. The inset table lists major planters and the major crops…