Community Partnerships
More than 6,000 people engage with The Huntington's collections each year through active community partnerships with organizations in Los Angeles and the surrounding area. At The Huntington, we see community engagement as a critical way to build a more inclusive cultural institution.
If you'd like to learn about partnering with The Huntington, contact communitypartners@huntington.org.
If you are a nonprofit and would like to request a donation for an auction or charity event, submit your online request for two general admission passes.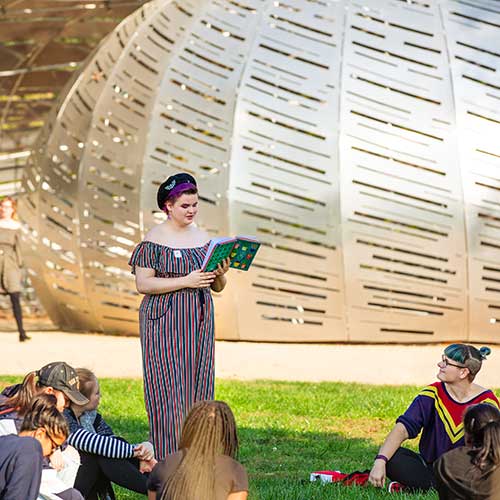 WriteGirl
Within a community of women writers, WriteGirl promotes creativity and self-expression to empower girls and nonbinary youth. Through workshops, readings, publications, and mentoring relationships with professional women writers, WriteGirl offers teens techniques and insights into poetry, songwriting, fiction, journalism, and more. WriteGirl has been a part of The Huntington's community partnerships program for many years, bringing teens to write with their mentors throughout the gardens, Library, and art galleries. Most recently, WriteGirl poetry was showcased as part of The Funtington.