Strategic Plan
ONE HUNTINGTON: Strategic Plan FY 2023–27
Adopted Feb. 10, 2022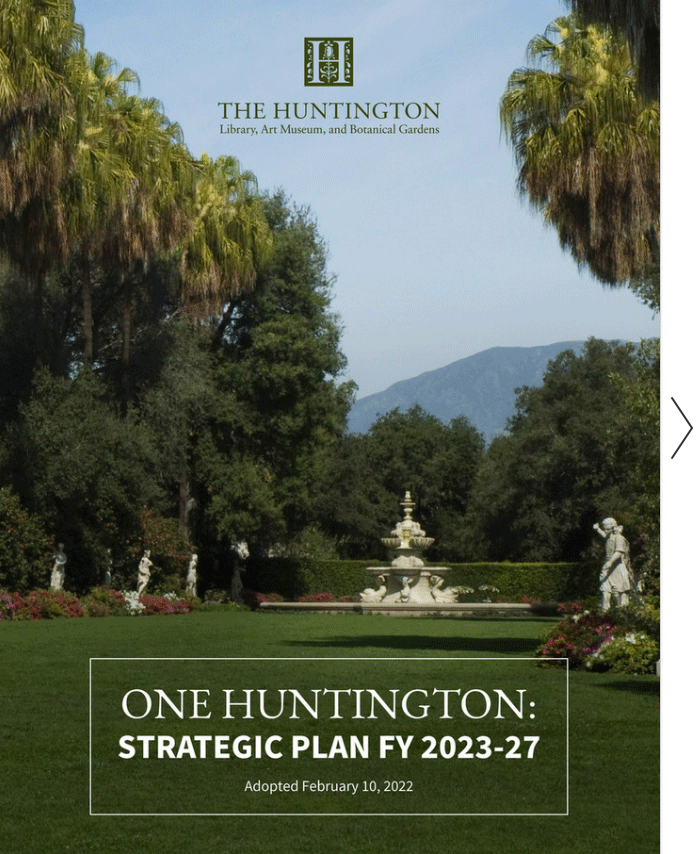 The FY 2023–27 institutional strategic plan builds on the extraordinary evolution and unique strengths of The Huntington—particularly the past three decades of successful revitalization and growth. In developing this strategic plan, we gathered input through inclusive discussions with members of The Huntington's key constituencies over several months. The plan reflects the collective input of The Huntington's staff, volunteers, scholars, members, collaborators, senior staff, and members of the Board of Governors and Board of Trustees, who were generous with their time, forthright with their recommendations, and are deeply committed to the future of The Huntington. A Steering Committee ably helped coordinate and guide the process, and the Board of Trustees adopted the plan on Feb. 10, 2022.
The plan works in concert with The Huntington's Strategic Plan for Diversity, Equity, and Inclusion, and it benefited, as well, from the findings and recommendations of an in-depth audience research project completed in 2021. Future divisional and operational plans will be aligned to this institutional strategic plan to ensure successful implementation.
The chief components of the plan include an updated Mission along with four specific strategic priorities focused on collections, access, sustainability, and impact. These priorities are underscored by six institutional commitments: approaching all our work as "One Huntington"; the fundamental importance of our staff and volunteers; our commitment to diversity, equity, and inclusion; the strategic value of partnerships and collaborations; investments in technology; and the prudent management of financial and physical resources.
The Mission reflects not only what the institution is but what it does and who it serves, as well as our aspirations as the institution enters its second hundred years.