Posted on Tue., June 27, 2023
SAN MARINO, Calif.— The Huntington Library, Art Museum, and Botanical Gardens has acquired a group of artworks spanning nearly 300 years that significantly broaden the range of American art in its collection. The acquisitions comprise a New England landscape painting by Edward Mitchell Bannister, an important Black artist of the 19th century; a series of six paintings depicting life in the colonial Caribbean by Agostino Brunias; an interpretation of the figurative silhouette by contemporary artist Letitia Huckaby; a mid-19th-century still-life by Lilly Martin Spencer; a monumental mural made in 1935 by Tyrus Wong, a key figure in the history of Asian American art; and an early work in silver by Tiffany & Co. The acquisitions were funded by The Huntington's Art Collectors' Council.
"These exciting new acquisitions represent a wide range of media, from oil painting on canvas to mixed-metal silverwork, photographic portraits on textiles, and oil and charcoal on plywood," said Christina Nielsen, the Hannah and Russel Kully Director of the Art Museum at The Huntington. "They also represent a diversity of artists and continue to broaden the range and depth of our American art collection. Two artists are women, two are African American, and one is Asian American. The artists' places of birth—England, Canada, China, and Italy—also tell a compelling story of émigré artists who worked in the United States and, in one case, the colonial British West Indies. We are tremendously grateful to be adding these works to our collection."
Some of the new acquisitions will go on display in the American art galleries in the coming months, and others will be featured in upcoming special exhibitions at The Huntington.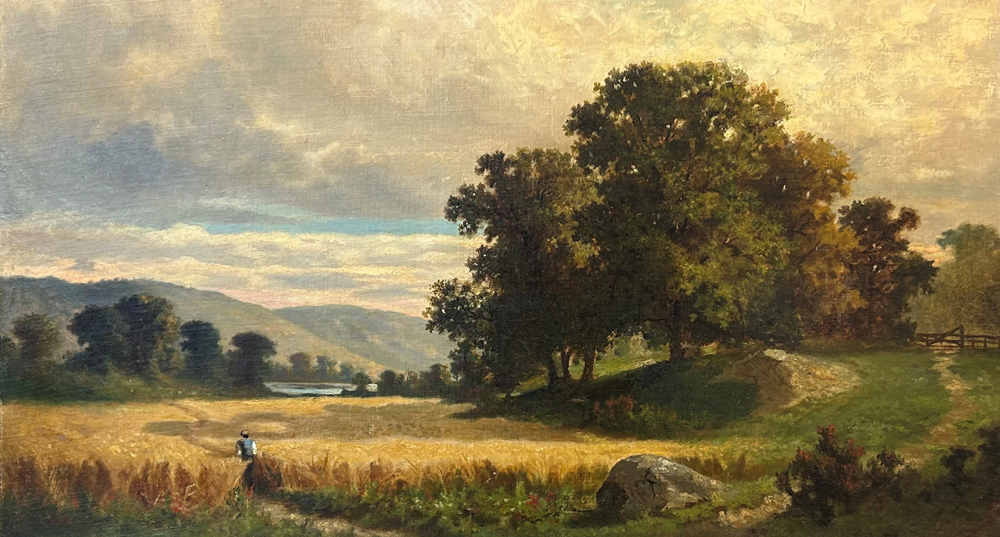 Untitled (Walking Through a Field) is a rare New England landscape by the trailblazing African American painter Edward Mitchell Bannister. The scene symbolically links past, present, and future as a solitary figure traverses a wheat field toward a distant lake. Like many of Bannister's paintings of the last quarter of the 19th century, its subject matter does not present a clear reading.
Born in Canada to a Barbadian father and a mother of Scottish ancestry, Bannister lived as a free man during slavery in America. Upon the death of his parents, he moved to Massachusetts, a free state, where he met his wife, Christiana Carteaux—a businesswoman, hairdresser, and abolitionist. Through the support of his wife and a community of prominent abolitionists in Boston and later Providence, Rhode Island, Bannister became a respected and successful painter of landscapes, portraits, and seascapes. He served as one of the original board members of the Rhode Island School of Design in 1878. Two years later, he helped found the Providence Art Club, an organization of professional and amateur artists, and art collectors created to stimulate the growth of art within the city. Motivated by an article in the Boston Herald, which claimed that Black artists were inherently incapable of becoming great artists, Bannister was determined to beat the odds. He achieved critical acclaim in 1876 when his work Under the Oaks received first prize in painting at the Philadelphia Centennial Exposition. His fellow artists rallied to his defense when he was denied entry into the exposition to accept the award because of his race.
"Adding Bannister's Untitled is an important milestone for the collection," said Dennis Carr, Virginia Steele Scott Chief Curator of American Art at The Huntington. "It is a major, previously unpublished work made at the height of his career. We are delighted that it will join other works by Black artists in the collection, including a painting by Robert S. Duncanson from 1853, representing prominent Black American landscape painters of the 19th century."
Born and trained in Rome, Agostino Brunias began his career as a Grand Tour painter on the European continent before moving to England, where he worked under the famed architect and interior designer Robert Adam. In 1764, he sailed to the British West Indies (a subregion of North America in the Caribbean Sea and North Atlantic Ocean), eventually taking up residence on the island nation of Dominica. He traveled widely in the region, and his portrayals of local society—a consistent theme in his surviving paintings—provides a rare record of Indigenous, AfroCaribbean, and Creole culture, specifically the role of free people of color within colonial society.
The six paintings form what is thought to be a complete set, produced on identically sized canvases. They are in their original frames and depict scenes that include women engaged in conversation and a native family from the nearby island of Saint Vincent. Each is characteristic of Brunias' vivid palette and his sensitive rendering of local dress, social distinctions, and nuanced treatment of subtle gradations in skin color.
"As we continue to expand our art collections related to the Caribbean, this remarkable set of paintings builds upon and relates directly to the Huntington Library's world-class holdings on the Caribbean," said Carr. "Brunias' paintings provide insight into how the people depicted were viewed by the artist in his own time and also raise questions about how these works may have influenced attitudes of viewers in the Caribbean, in continental Europe, and in Britain, where many of his principal patrons and collectors resided. They represent a type of genre painting practiced in the Americas, akin to Mexican castas (caste paintings) or costumbristas (paintings of local customs), that capture not only scenes of daily life but also social and racial stratifications in colonial society."
The paintings complement, as well, last year's acquisition of sketches of the Jamaican plantation Cinnamon Hill by Mary Clementina Barrett.
Letitia Huckaby's vibrant pairing of two photographic shadow portraits printed on fabric creates a striking visual composition. The profiles mirror the sitters standing behind vintage cotton floral textiles. Each silhouette represents a story of Black immigrants living in San Antonio, Texas. The sitters' reflections emerge from the materiality of cotton, addressing histories of colonialism, imperialism, and African enslavement both inside and outside the United States.
Huckaby merges documentary photography with fiber material, interweaving historical and contemporary narratives about underrepresented communities in the Black American South. She created the two works acquired by The Huntington during a three-month artist residency at ArtPace in San Antonio. Her residency project, And Thy Neighb(our), resulted from interviews and photographs of 15 Black women and men who self-identified as refugees or immigrants in the local community. The series title references Biblical text (Luke 10:27) and was used to inspire community-wide concern for underserved immigrant communities, especially those originating from countries with majority Black populations. These two works from the series represent immigrant women within Huckaby's project: "Chaulinne," a Black woman who identifies as Haitian American, and "Shwanda," a Black woman who identifies as Jamaican-Nigerian American. Highly accomplished professionally, the women present two different immigrant journeys influenced by their countries of origin. Through her project, Huckaby discovered that the experiences of Black immigrants are often obscured in national narratives on immigrant identities.
In 2007, Letitia Huckaby was a resident artist in Gee's Bend, studying under the tutelage of Gee's Bend quilter Lucy Mingo, making her work relevant to The Huntington's collection of Gee's Bend quilts by Mary Lee Bendolph and prints by Mary Lee Bendolph, Louisiana Bendolph, Loretta Pettway, and Loretta Bennett] made in collaboration with Paulson Fontaine Press.
"Huckaby's work is transformational in the context of The Huntington's expansive collection of colonial American textiles—traditional quilts, samplers, and needlework—as well as silhouettes and other types of portraiture that are displayed in the American art galleries," Carr said.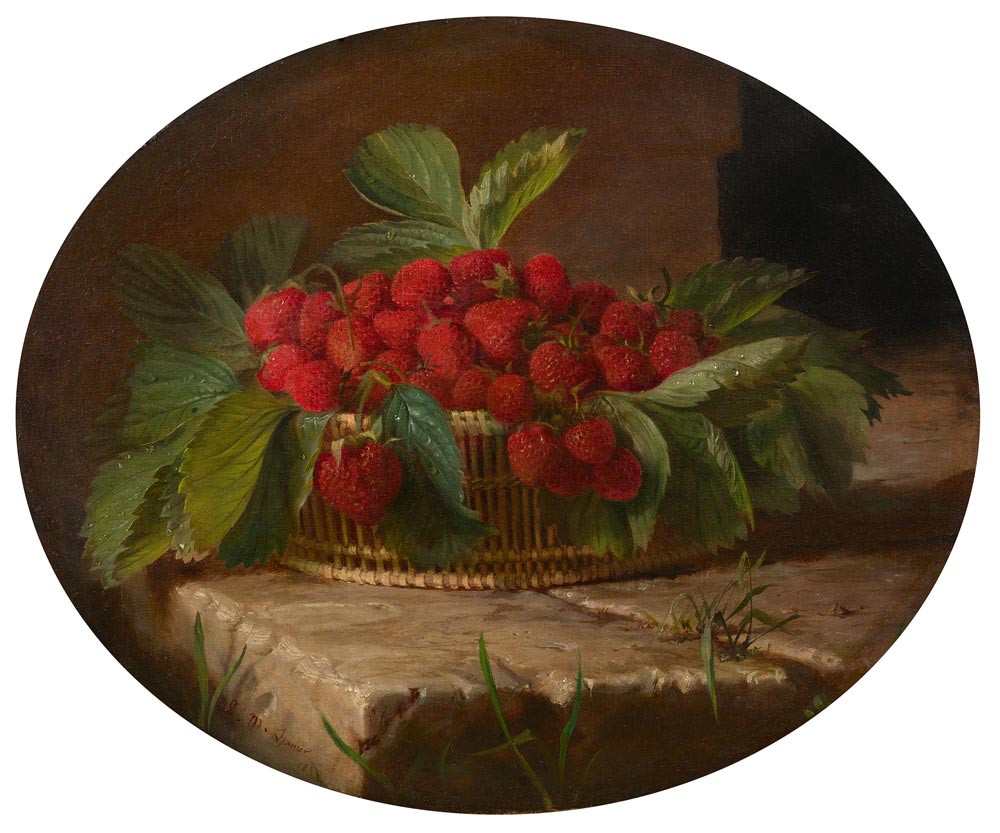 A basket full of plump, ripe strawberries glistens in the sun. Tiny droplets of water, likely remnants of the morning's dew, sparkle along the strawberries' red flesh and bright green leaves. Lilly Martin Spencer's 1859 still-life painting Strawberries is a tour-de-force of naturalistic observation that engages multiple senses simultaneously—sight, smell, touch, and taste—as it asks its viewers to imagine the scents and flavors the image evokes.
Spencer was born in England but emigrated to the United States as a young girl. After training and exhibiting in Cincinnati, she married and moved to New York, where she continued to advance her career. Defying cultural norms, Spencer's husband took on the domestic role in the family, allowing her to focus on her painting and making a name for herself with witty genre scenes and magazine illustrations. Spencer embraced British writer John Ruskin's philosophies and, like painters William Trost Richards and Henry Farrer (whose works are represented at The Huntington through drawings and prints), took note of his advice to "go to nature in all singleness of heart … rejecting nothing, selecting nothing, and scorning nothing." Spencer exemplifies Ruskin's advice with her careful depiction of the worn and cracked stone beneath the basket, the inclusion of weeds that poke through the stone's cracks, and the nearly scientific level of focus she gives to the plant itself—its serrated and veined leaves, and the drops of water that cling to it.
Spencer's painting enhances The Huntington's display of American still-life paintings, represented by the work of Raphaelle Peale and her contemporaries Severin Roesen and John Frederick Peto, as well as Pre-Raphaelite pieces in the British art collection.
"Lilly Martin Spencer's newly rediscovered painting, Strawberries, draws connections across Huntington collecting areas, providing a clear link between British and American art of the period, and even to our botanical gardens." Carr said.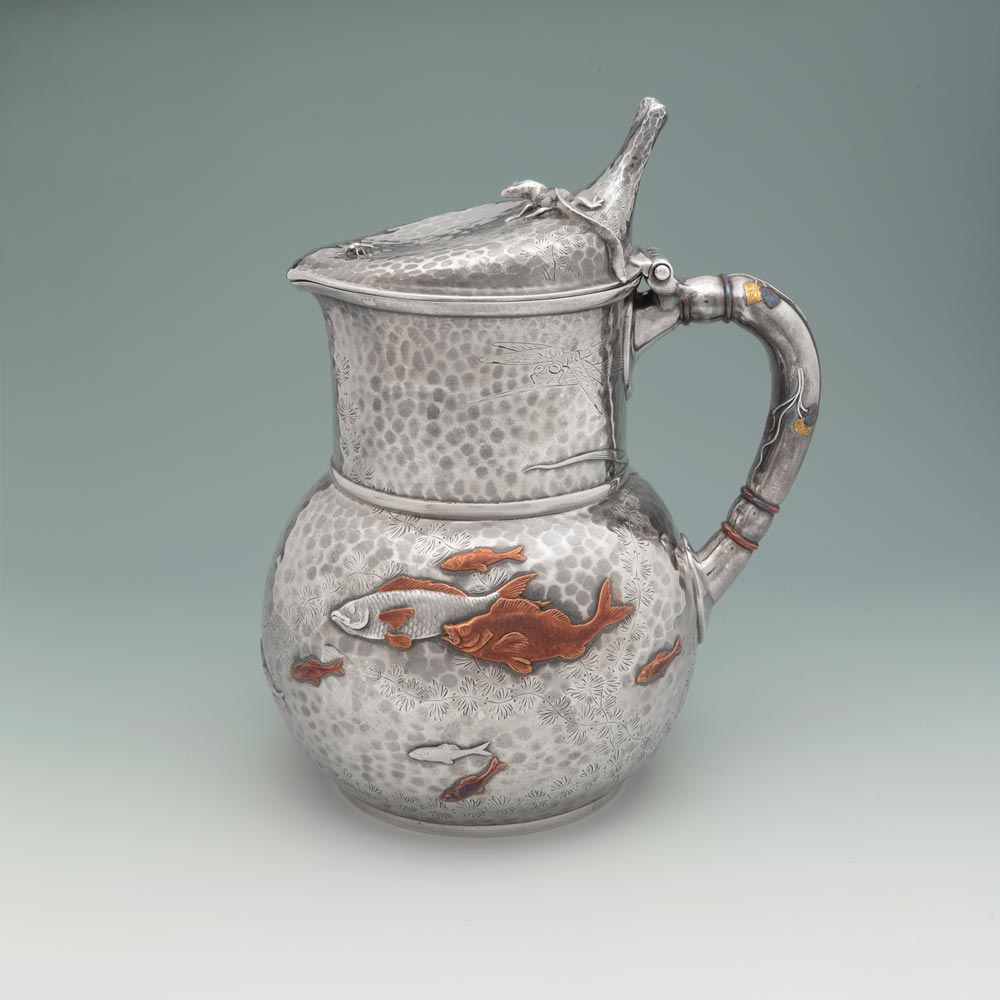 A pair of colorful carp swim amidst aquatic plants while a watchful dragonfly alights on a blade of grass. A newt perched on a lily pad eyes a fly. These and other incidents of pond life are captured in the newly acquired lidded silver pitcher, one of Tiffany and Co.'s most celebrated early mixed-metalwork experiments in a Japonesque style. Inspired by the design aesthetic and technical mastery of Japanese metalwork and other decorative arts, Tiffany's designers used applied mixed metals—gold and copper on silver—to create a lively, narrative scene that wraps around the vessel. The hand-hammered surface breaks up the reflection of the bright, polished silver as does water in a pond, referring to the pitcher's purpose to hold liquid.
A version of the pitcher premiered at the 1878 Exhibition Universelle in Paris, part of the display that won Tiffany and Co. the Grand Prize for silverwork, the first award of this caliber for an American firm at an international exposition. Images of the pitcher were widely circulated, gaining the company great acclaim, and later versions were made and sold by Tiffany and Co. in the late 1870s and early 1880s, of which this example—with a rare added hand-hammered lid—is one.
"This covered pitcher is a key addition to The Huntington's collection of works by the Tiffany firm," Carr said. "It is among the earliest examples of Tiffany material in the collection and the most representative of the Japanese design aesthetic that took the world by storm following the reopening of Japan to the West in the 1850s. It evokes elements of The Huntington's Japanese and Chinese gardens, especially the lily and koi ponds, which were among the first garden spaces created by Henry Huntington. The pitcher will be right at home in the American galleries—especially our galleries devoted to American silver and the Aesthetic Movement of the late 19th century."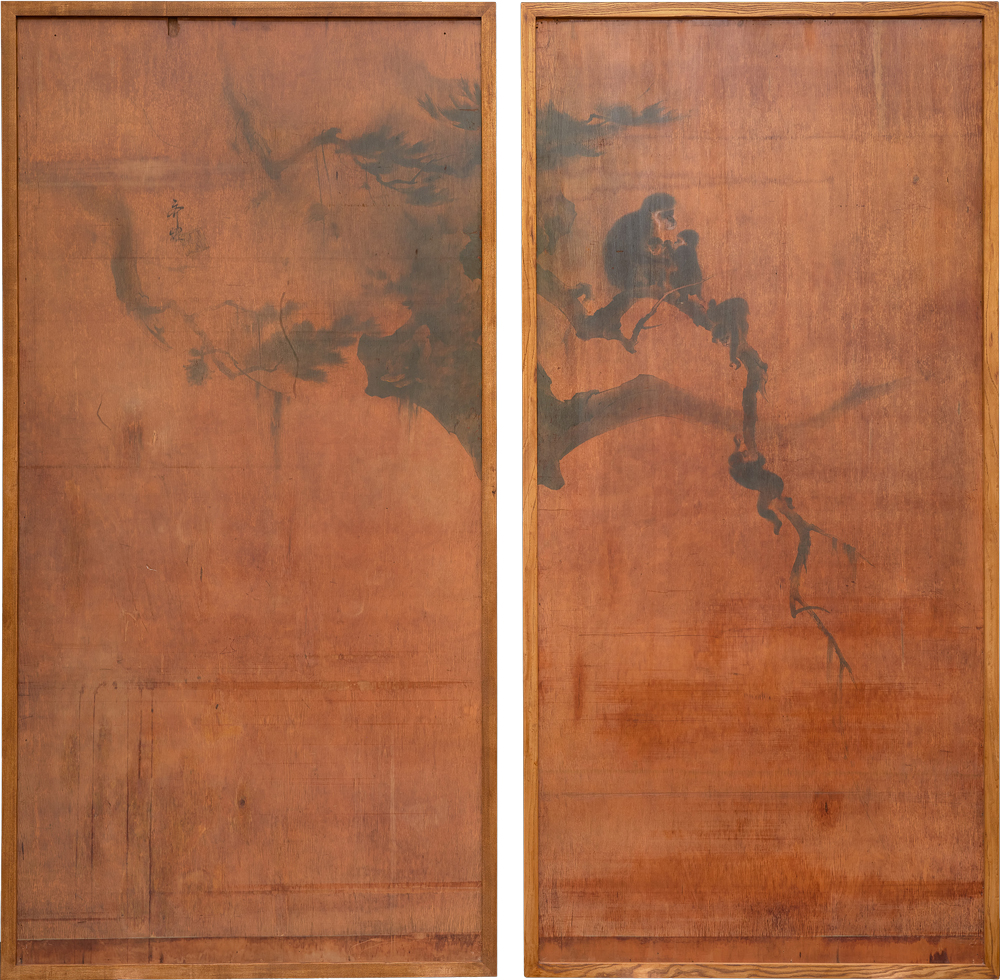 Widely recognized as a key figure in the history of Asian American art, Tyrus Wong is best known as the artistic visionary who shaped Disney's iconic film Bambi (1942). Wong immigrated to the United States in 1919 from Guangdong, China when he was nine years old. Eventually settling in Pasadena and then Los Angeles, Wong trained as a modernist painter at the Otis School of Art and Design. In the 1930s, he became a central member of the Los Angeles Oriental Artists Group, a circle of Asian American artists who worked and exhibited together, developing a distinctly homegrown style of American modernism.
Wong's monumental mural of Chinese-style monkeys stands eight feet tall by eight feet wide. From the top left corner, a composition of tree branches descends, rendered in oil and charcoal pencil. A family of five monkeys sits in this forest setting: a mother clutches a baby, and near her, a link of three adolescents climbs the branches, passing a fruit down the line. "Wong's composition evokes both the visual traditions and iconography of animal painting in historical Chinese and Japanese scroll painting and the distinctive language of muralism and modernism drawn from Wong's context in Works Progress Administration-era California," Carr said.
Wong painted this mural for the LA Chinatown restaurant the Dragon's Den, which opened in 1935. The Den was the Depression-era business idea of Wong's friend, Eddy See, who operated an art gallery in the mezzanine of his family's successful store, F. Suie One.The restaurant operated only until 1942, after which this mural by Wongremained in the possession of the See family. The Huntington acquired the mural through the granddaughter of Eddy See, New York Times-bestselling novelist Lisa See (b. 1955), who chronicled her prominent family's history in the nonfiction memoir On Gold Mountain. In 2020, The Huntington acquired a major collection from the See Leong family for its Pacific Rim Collections, which features papers and photographs, including Wong's hand-painted menus from the Dragon's Den.
# # #
[EDITOR'S NOTE: High-resolution digital images available for publicity use. Request Images]
About The Huntington
The Huntington Library, Art Museum, and Botanical Gardens is a cultural and educational institution of global significance. Building on Henry E. and Arabella Huntington's renowned collections, The Huntington supports research and promotes education in the arts, humanities, and botanical science through the growth and preservation of its collections; the development of a community of scholars, school programs, and partnerships; and the display and interpretation of its extraordinary resources for diverse audiences. The Huntington is located at 1151 Oxford Road, San Marino, California, 12 miles from downtown Los Angeles. Visitor information: huntington.org.
Contacts
Thea M. Page, 626-405-2260, tpage@huntington.org
Jessica McCormack, 323-497-9308, huntingtonnews@huntington.org