Story Time - Love Is
Activity 1: Love Is…?
Love can be for a parent or caregiver, a best friend, a person, a pet, another living thing, or things that are not living at all. Diane Adams starts her book with the words "Love is holding something fragile." What do you think of when you think of love? Write down adjectives and descriptions that come to mind.
Is love… Big? Loud? Quiet? Soft? Sharp? Fluffy? Messy? Bright? Swirly wirly? Calm?
Activity 2: Send a Message to Someone You Love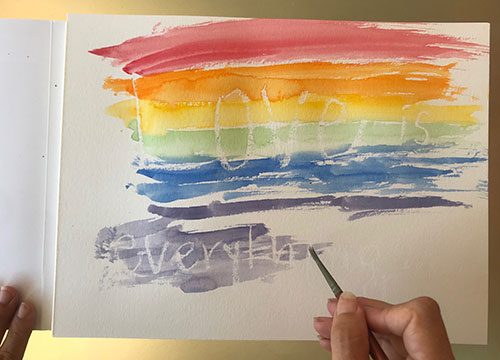 Experiment with wax resist painting, using crayons and paint to tell your loved ones what love is.
1. Find a flat surface, such as a table, where you can do this project.
2. Find a thick piece of paper, paints, and crayons for this activity.
3. Use a crayon to draw out a message or draw a picture for someone you love. If you want this to be a secret message, use a white crayon on a white piece of paper for your loved one to paint over with paint colors of their choice.
4. Paint over your message with water-based paint. Your crayon message will resist the paint and appear even if you paint over it.
Share your love messages with us at #TheHAtHome.
Activity 3: Make Your Own Re-collection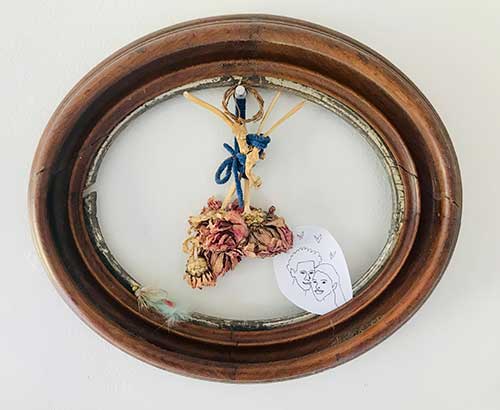 Jazmin speaks about how preserving collections can be about preserving memories. Preserving objects is about loving and caring for the memories of the past. Make your own memory collage or re-collection, which preserves a moment in time that you hold dear.
Jazmin: In this case, I preserved the zinnias from my wedding day, and a ring made of twisted jute plant fibers, which means a lot to me. I placed them with a drawing of my husband in an old frame. I also included a fly-fishing lure, because being in a river with my beloved is my personal definition of happiness.
Kate: But I'm not a library preservation professional. Jazmin, what can I do to preserve my memories?
Jazmin: As Preservation Assistant, my biggest responsibility is called environmental monitoring. This means that I check on things like temperature and humidity, and I also work to help protect our collection materials from bugs that can eat or damage the items. So, as best as we can, our treasures and memories should be kept in a good environment. Don't worry about being perfect. Even little changes make a big difference.
Try your best to keep your memory items in a place where it doesn't get too hot or cold.
If the temperature is moderate, it should help keep the air not too dry and not too damp
Wash your hands before touching your items.
Be gentle when working to brush or wipe dust off your items.
These tips and more can also be found at American Library Association for Preservation Week
Share your memory collages or re-collections with us at #TheHAtHome.