Heavy rains this winter made the prospect of drought seem far away, and perhaps even improbable. The record levels of precipitation will provide short-term drought relief, to be sure, but long-term water supply challenges for our region persist. Water use at The Huntington is routinely monitored, and sustainability and water conservation remain among the highest priorities. So, each storm cycle has been an opportunity to gather data and observations for improving the institution's own practices, which then can be shared with the public.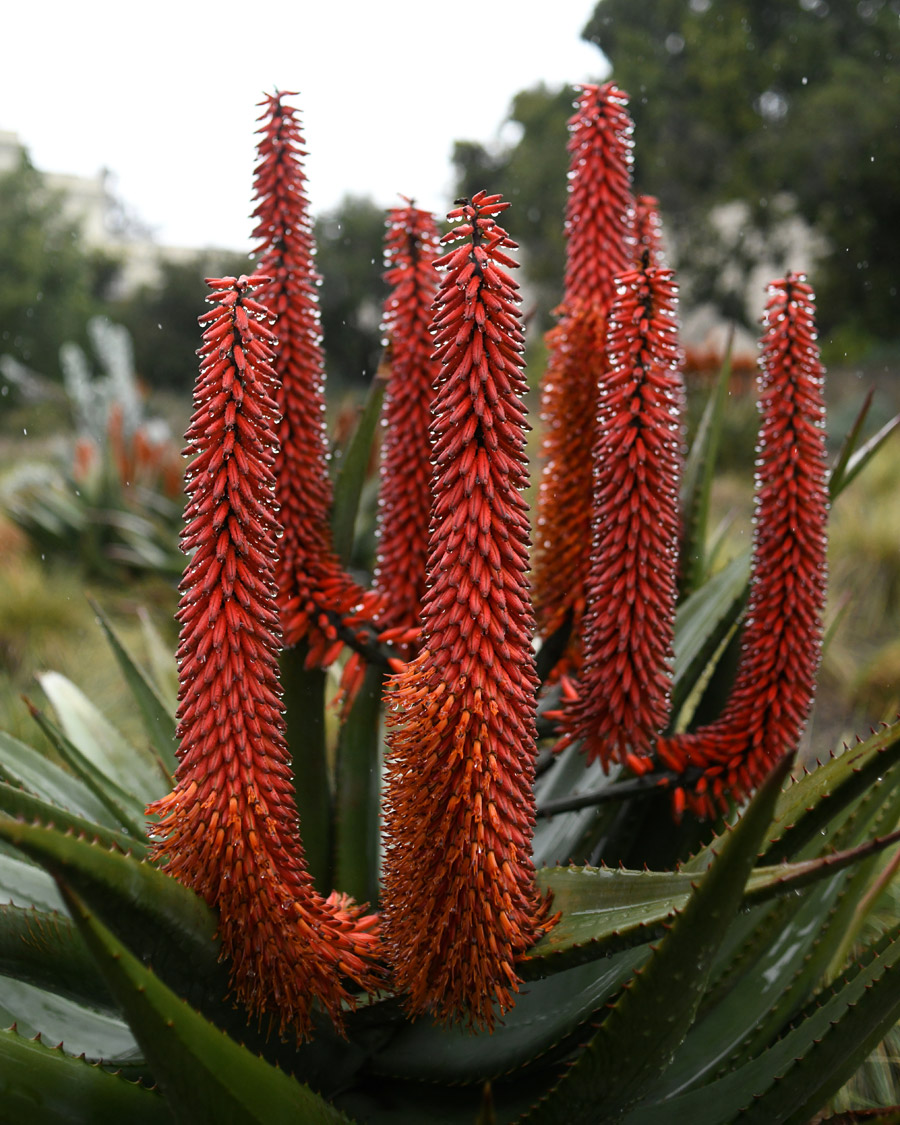 "We're now conducting some hydrologic studies," said James Brumder, The Huntington's associate director of garden operations. "We're starting with an area behind the Botanical Center, part of the orange groves. We don't have a lot of data yet, but we're beginning to understand how various volumes of water behave in this specific location. To better manage water when we have a bounty of rain, we will need to know how much is accumulating and where it flows in our landscape. When we finished the last phase of the Chinese Garden, we put in two detention basins to capture and hold water runoff. Over time, that water percolates downward and helps replenish the Raymond Basin aquifer, which is the source of water for the three wells we maintain."
At The Huntington, heavy rainfall rushes through portions of the property—for example, along the road that runs adjacent to the Desert Garden and the road that runs through the Japanese Garden. This may seem like an ideal opportunity to capture water for future use, but managing runoff is tricky. Kathy Musial, curator of living collections, points out the obstacles: "First, the soil level is higher than the road in places, so it would be difficult to divert the flow. Second, any drains and pipes would need to be carefully placed and big enough to accommodate the flow because the water accumulates and runs off pretty fast. And third, our soil in the gardens is too finely textured to effectively capture that runoff. The water doesn't infiltrate fast enough."
Where engineering solutions aren't practical, planting strategies can provide alternatives, Musial adds. When harvesting rainwater isn't an option, it can be conserved by keeping it in the ground rather than channeling it away into storm sewers. "You might notice wildflowers are usually more abundant and taller right at the edge of the road," Brumder said. "The water that's accumulated on the pavement concentrates along the edge. That's a great opportunity. We could divert water from a hard surface, like a roof or a road, into a planter bed, swale, or oasis garden, and provide more rain for plants where it's needed."
The magnitude of the water conservation challenge facing the West can be intimidating. Successfully addressing it will mean adjustments at many levels, from large public policy changes to alterations in daily habits. "A lot of little actions can add up," Brumder observed. "It doesn't need to be a million-dollar project. You can go in your backyard and make small modifications with a shovel, and that can make a big difference, diverting water away from the hardscape and back toward the plants."
Tips for Conserving Garden Water
Watering infrequently and deeply is the best strategy for water conservation and plants. This encourages deeper root growth and reduces evaporation.
Know your soil and use an appropriate method for watering. Soil types range from sandy substrates made up of large particles with more air in between them to fine-textured clay that takes much longer to absorb water. The looser the soil, the more rapidly it will drain. Very sandy soils may need more frequent watering because they don't hold water as well as others that contain more clay particles and organic matter. If your soil drains easily, it will take less time to sufficiently water your garden. To water clay soil deeply, you may have to water in increments, waiting for each round to soak in. The most desirable soil type is sandy loam, which is a happy medium between sand and clay.
Consider permeable hardscaping—such as pavers, gravel, or decomposed granite—for walkways, patios, and driveways. These allow more water to percolate into the ground. However, bear in mind that weeds will exploit gaps to take root.
Plant strategically. If you have paved areas, create adjacent swales with plants to capture and retain the water that runs off the pavement. If you have clay on slopes, you can use plants to help trap water until it can be absorbed.
Read more about how to establish a waterwise landscape and The Huntington's water conservation mission.
Sandy Masuo is the senior writer in the Office of Communications and Marketing at The Huntington.