The Shapiros
L. Dennis Shapiro was an electronics engineer and inventor credited with helping to pioneer the personal response industry that allows millions of elderly and disabled individuals to live independent lives. He was chair for 28 years and CEO for 10 years of Lifeline Systems Inc., later acquired by Royal Philips Electronics. His wife, Susan, is a retired partner at the law firm Ropes & Gray LLP.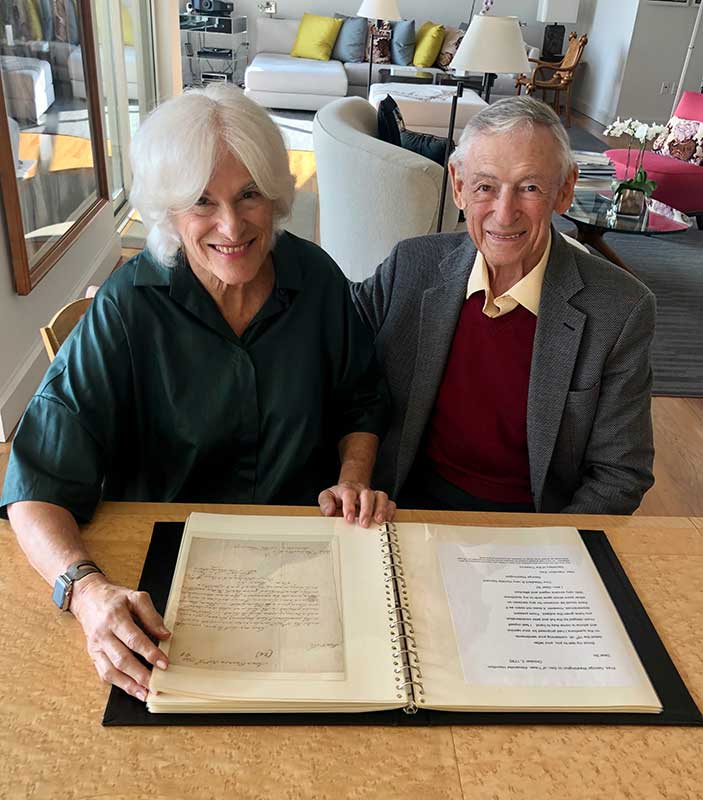 "I have a collecting gene," Shapiro said in a 2019 interview. "I collected stamps as a kid. I liked the idea of having things with a history. As a company president, I felt a bond with other presidents who all knew too well, as Harry Truman liked to say, 'The buck stops here.'"
But the collections' initial purchase, Susan Shapiro said, was her doing. "He's impossible to buy for when it comes to birthday gifts," she said, recalling that when he mentioned to her in 1985 that he had seen presidential correspondence in a Boston antiquarian bookstore that piqued his interest, she quietly made a surprise purchase.
In purchasing historical documents, the Shapiros delved deeply into the context of the correspondence: How does a particular document embody the writer's decision-making and motives? How does it elucidate what was happening in the wider world?
"I collected the Adamses," Dennis Shapiro said, "because I personally connected with their feelings toward family and country, and felt that they were underappreciated. But the wisdom of these two men, made evident in their frequent correspondence, speaks volumes about human dignity and empathy and the deep connection between them."