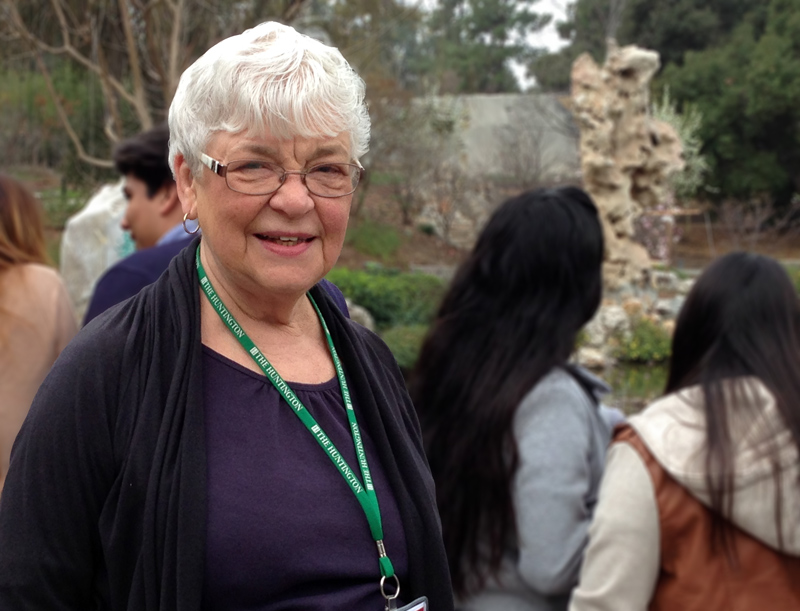 With docent Sandra Mader as their guide, students use poetry to capture the beauty of the Chinese Garden. Photo by Bonnie Taylor.
There are more than a thousand active volunteers who give back to The Huntington, whether in the library, the art galleries, or the gardens. Each volunteer brings something special to the institution and displays passion, commitment, and joy in different ways. Sandra Mader, a retired high school teacher, librarian, and education administrator, is just one of many docents who share their love for teaching when they lead school tours in the Chinese Garden, Liu Fang Yuan, or the Garden of Flowing Fragrance.
Recently, Mader had an enlightening experience while giving one of her Thursday morning tours to a group of high school juniors and seniors. For the majority of students from Los Angeles, this school trip was their first encounter at The Huntington, and it filled them with awe and wonder. As the teenagers stepped foot on the sprawling green lawn of the North Vista, they were transformed. At first glance, they described the expansive lawn as a perfect soccer field, but after more consideration they also described it as a place of "beauty" and "joy."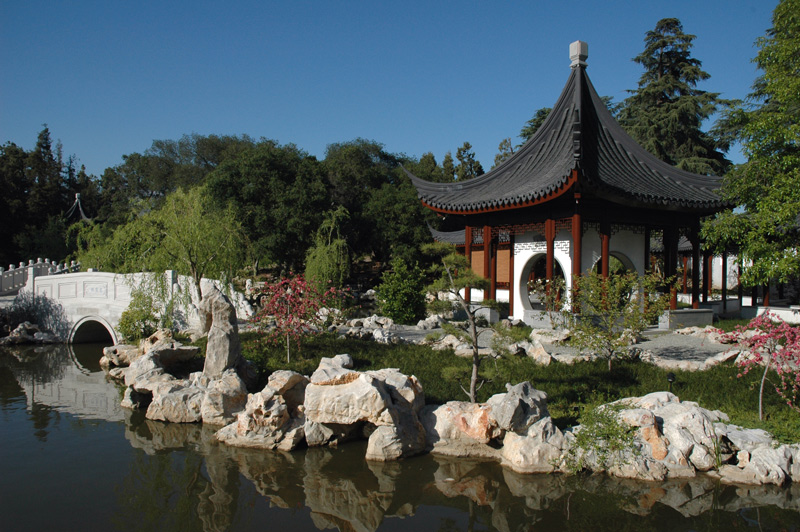 Terrace of the Jade Mirror. Photo by Lisa Blackburn.
As part of an instruction method advocated by the Common Core State Standards, Mader encouraged the students to use their senses and take in their surroundings. As they walked from the North Vista through the Shakespeare Garden to the entrance of the Chinese Garden, Mader emphasized communication and collaboration, which were key aspects of the tour. As she asked questions and provided positive feedback after student participation, the teenagers began to feel comfortable sharing their thoughts and observations of what they saw. By the time they entered the Chinese Garden, they were completely transfixed. They were eager to read the poetry found throughout the garden and learn how to write their own couplets. After finding a quiet spot, Mader asked the students to take a picture with their eyes and hold onto an aspect of the garden that captured their attention, which resulted in these beautiful and joyful couplets:
"Wind ruffles the water, scattering the spots of light.
Sun warms the earth, coaxing beauty from the deep."
"Opening the gate, you let the sun in.
Closing the door, you push the moon out."
"The hummingbird gracefully dances in the air.
The carp quickly cuts through the water."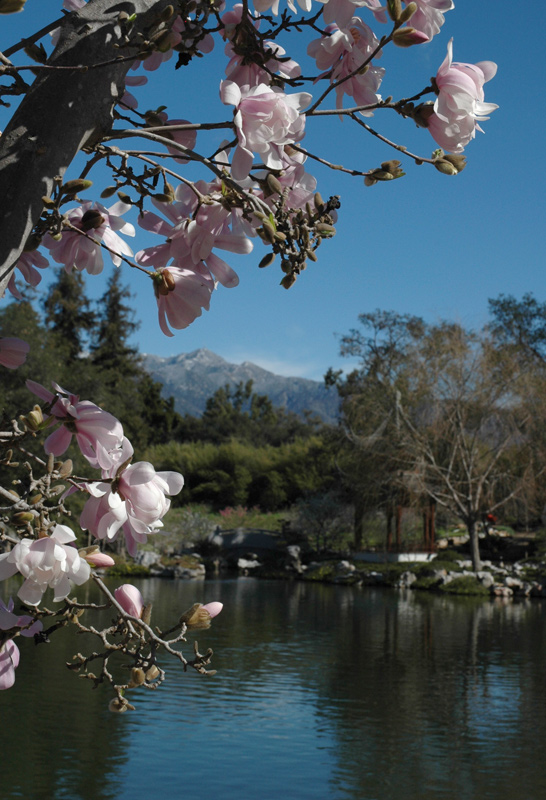 Magnolia blossoms frame a view of the Lake of Reflected Fragrance. Photo by Lisa Blackburn.
Bonnie Taylor is assistant director for donor engagement at The Huntington.